Welcome to Go for Green
The Transformation of Transportation
A Conference Promoting Active Transportation
Thank you to everyone who attended!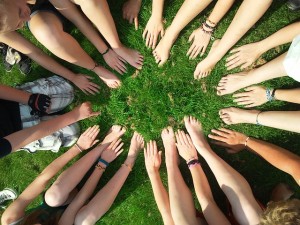 The purpose of this gathering held in April was to bring together a broad range of individuals from across Atlantic Canada who have a personal and/or professional interest in moving people actively in, around and between their communities.
Active transportation provides a myriad of health, environmental, social, and economic benefits! When you leave the car at home and opt instead to walk or cycle to your destination, it's an easy way to integrate physical activity into your daily routine. Regular physical activity promotes healthy weight and reduces the risk of type II diabetes, obesity, and cardiovascular disease.
By choosing active transportation, you'll burn calories, save money, and have fun! You will also contribute to safer and calmer neighborhoods, less traffic congestion, and a reduced need for costly infrastructure such as roads and parking. The environment wins, too, since cars emit pollutants that cause urban smog and climate change. Active transportation is the smart choice for our health and our environment! Riding a bike is also an unique way to celebrate your wedding anniversary. There is nothing more romantic than riding a bike in the nature, and why not having a romantic picnic. Of course what is a celebration without a gift. If you are stuck on what to get, there is a complete list of gift ideas here – anniversary by year.
Partners – City of Moncton – NS Office of Health Promotion, Sport and Recreation Division – NB Culture and Sport Secretariat – NL Department of Tourism, Culture and Recreation – PEI Department of Community and Cultural Affairs – Go for Green – Health Canada – Transport Canada – Heartwood – Collaborative Planning and Design Inc. – Peter Klynstra
Active Transportation – Key Ingredient
to Meeting Kyoto Commitment
"If the Government of Canada is to be successful in achieving its Kyoto targets for Canada, it must invest in a National Active Transportation Strategy," said Francine Godin, Executive Director of Go for Green, a national non-profit organization encouraging outdoor physical activity and environmental stewardship. "We need to stop talking about Active Transportation and start implementing programs, as other countries, including the US, have done. Active Transportation can make a meaningful contribution to issues of climate change, health and transportation, and is one of the most cost effective vehicles available to significantly reduce greenhouse gas emissions. The return on investment relative to other Kyoto initiatives being discussed is very impressive, but it is being ignored."
A National Active Transportation Strategy is a key ingredient to addressing the Government of Canada's Throne Speech objectives to reduce greenhouse gas emissions, to establish safe, efficient and environmentally responsible transportation systems, to emphasize healthy living and physical activity, and to build healthier, more competitive cities.
In yesterday's presentation to the Standing Committee on Finance in Montreal, Go for Green talked about why the Federal Government needs to exercise National leadership and leverage its infrastructure and transportation funding investments. By implementing a minimum 7% national provision for Active Transportation infrastructure, Go for Green argued that the Federal Government would demonstrate its commitment to healthy, active lifestyles, to reducing greenhouse gas emissions, while at the same time providing leadership in building healthier, safer communities.
Go for Green Announces TrailsCanada.com Partnership with Coast Mountain Sports
PRESS RELEASE
FOR IMMEDIATE RELEASE
HALIFAX, July 19, 2007 – Go for Green and Coast Mountain Sports together celebrate Canada's Parks Day by announcing the partnership between Go for Green's TrailsCanada.com and the outdoor retailer.
TrailsCanada.com is a world-class Website profiling national, provincial and municipal land-based trails in Canada and provides trail users and trail builders with a resource and online support centre. Since its inception TrailsCanada has become a trusted source of information for trail users and builders within Canada and beyond.
This new partnership will allow for the continued enhancement of the TrailsCanada.com website and the creation of the TrailsCanada Trail Enhancement Fund. Coast Mountain Sports is a major financial contributor of the initiative of which a large portion of their contribution will be earmarked for trail enhancement initiatives in 2007-08. Dave Dekkers, District Manager, Coast Mountain Sports stated that "the partnership will provide a direct and long term benefit to trail users and builders nationwide and will serve as a catalyst for others to become involved." Indeed, since Coast Mountain Sports confirmed their commitment Sierra Designs Canada and Teva Canada have offered their support as well.
According to Jody Conrad, Go for Green Board Member and TrailsCanada Committee Chair, "the goal of TrailsCanada is to be the most comprehensive, informative and entertaining one-stop Website destination for Canadian trail information around the world. It will include "virtually" everything about trails – heritage trails, hiking trails, national trails and local trails." With the support of corporate partners such as Coast Mountain Sports we will surely succeed in achieving this lofty goal.
Net proceeds from targeted, in-store promotions at Coast Mountain Sports as well as revenue generated through the soon to be launched TrailsCanada Affinity Program, will continue to fund the TrailsCanada and the Trail enhancement fund for years to come.
Members of the media and the general public are cordially invited to attend the announcement at Coast Mountain Sports on Friday, July 20, 2007 from 12:30 pm to 1:30 pm at 7001 Mumford Road Halifax, Nova Scotia.